Security Gymnastics - Risk-based from RSA, security model rebuilding from MS, and taking revocation to the next level?
RSASecurity is now pushing a thing called Adaptive Authentication
The risk-based authentication module is a behind-the-scenes technology that is designed to score the level of risk associated with a given activity or transaction—like account logon, bill payment or wire transfer—in real time. If that activity exceeds a predetermined risk threshold the user is prompted for an additional authentication credential to validate his or her identity. ...

One-time password authentication offers tangible, time-honored security for the segments of your user base who routinely engage in sufficiently risky activities or who feel better protected by physical security and will reward your institution for providing this through consolidation of assets increased willingness to transaction online.
It's hard to find a pithy statement of reliability amongst the hypeware, but basically this seems to be offering a choice of authorisation methods, based on the risk. The essence here is four-fold: we are now seeing the penny drop for suppliers: security is proportional to risk. Secondly, note the per-transaction emphasis. RSASecurity are half way to a real solution to the meccano / MITB threat, but given their current line up of product, they are stuck for the time being. Thirdly, this confirms the Cyota trend spotted before. That's smart of them.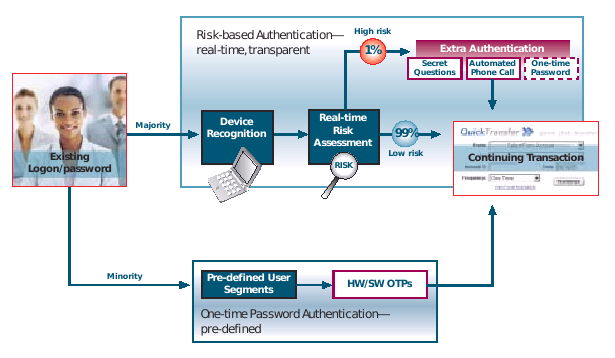 Finally, recall the security model that we all now dare not mention (#11). It's war with Eurasia, as always. Further hints of this have been revealed over at emergent chaos, where Adam comments on Infocard:
For me, the useful sentence is that 'Infocard is software that packages up identity assertions, gets them signed by a identity authority and sends them off to a relying party in an XML format. The identity authority can be itself, and the XML is SAML, or an extension thereof, and the XML is signed and encrypted.'
Spot it? As reported earlier, Microsoft is moving to put Infocard in place of any prior security model that might have existed (whatever its unname) and as we now are rebuilding the security model from scratch, it makes sense to ... have the user issue her own credentials as that will build user-base support. Oh-la-la! I wonder if they are going to patent that idea?
Over at the NIST conference on PKI, they had lots of talks on trust (!), revocation (!) and sessions on Digital Signatures (!) and also Browser Security (!). I wish I'd been there. I skimmed through the PPT for the Invited Talk - Enabling Revocation for Billions of Consumers (ppt) by Kelvin Yiu, Microsoft, for any correlations to the above (I found none).
But I did find that IE7 will have revocation enabled by default. What this means in terms of CRL and OCSP checking is unclear but one curious section entitled "Taking Revocation to the Next Level" described (sit down before reading this) a fix in TLS that will enable the web server to cache and deliver the OCSP request for an update pre-fetched to the browser. All in TLS. Apparently, this act of security gymnastics is called "stapling":
Revocation in Windows Vista

How TLS "Stapling" Scales

Contoso returns its certificate chain and the OCSP response in the TLS handshake


Stapling reduces load on the CA to # of servers, not clients
I kid you not. According to Microsoft, revocation is to be bundled in TLS - although I would like people to check those slides because I have a sneaking suspicion that NeoOffice wasn't displaying all the content. Anyone from the TLS side care to correct? Please?
Posted by iang at April 18, 2006 02:46 PM | TrackBack