Meccano Trojans coming to a desktop near you
Scuttlebut is circulating in the anti-virus world about the new class of trojan about to emerge. Details - facts - are scanty, and several exaggerations seem to already have fallen flat on their face already. Having said that, a general pattern is emerging, and it looks like a significant advance in the threat state of the Internet. Here's what I've picked up so far.
The new class of trojan evidences an ability to deconstruct and reconstruct the browser in the phisher's image. That is, it is a sort of meccano kit for phishers, which allows the construction of a new phisher-friendly browser. The meccano trojan operates on the Microsoft Windows operating system and allegedly is coded up for both IE and Firefox, so Firefox has crossed GP.
I say above "evidences an ability" because the view is that the kit is not quite there yet, but it's near enough to be "just around the corner." There is substantial uncertainty about this, because the details are being shared hush-hush. My feeling from the scuttlebut is that the first meccano trojans will roll into Windows machines within a month or so, in what could be considered to an alpha test of the concept. Within 6 months, that should shake out and the meccano concept will be well tried and tested. But that's just a feeling based on a secret stacked up on a prediction.
If you prefer to think in classical PKI terms, this means that the MITM is now inserted into the browser. Hence, this attack was later named as the Man in the Browser, or MITB (note inserted 2009). PKI is rendered bypassed, in a way that is indefensible to PKI at least. Deep security readers will recall that one hard-wired assumption of PKI was that the threat was on the wire, and the node was safe, and we've now reached the point where that assumption is broken in theory and in practice.
Let's summarise. First the facts: A new trojan class is capable of taking over the browser on Windows platforms. It covers both IE and Firefox. It renders all security within the browser theoretically breached.
Second, the anti-facts. Everything written above is unconfirmed, so they are not facts at all! Next, the notion that suddenly the browser disappears into a puff of smoke and the user is left naked and unprotected just doesn't make sense - to me at least. There still remain substantial economic defences against any given attack - just because one component is broken doesn't mean the system starts handing out your cash left and right. There are also things that users - both individuals and corporates - can do to protect themselves, and there many many things that sites can do to change the economics.
What then makes me believe that this is substantial without waiting for the unobtainable facts? Three things. Firstly, this is predicted in concept if not in detail. Any security researcher worth their salt has written off the nodal security model as far as Windows goes - I wrote about the fatal conceit of the threat reversal some time ago, and to many that was good logic but oh-so-ho-hum. Next, it is only the timeframe that we are arguing about, and we are about due for this. Note how last week's news predicts the browser attack:
"MetaFisher uses HTML injection techniques to phish information from victims after they've logged into a targeted bank account, said Dunham, which lets attackers steal legitimate TAN numbers (one-time PINs used by some banks overseas) and passwords without having to draw them onto phony sites."
Finally, those that are vulnerable and have seen more of the story are taking it seriously. Banks in one place that I know have already formulated their response and are moving to put it in place. In this case, it is a banking sector that is not particularly vulnerable anyway, and their solution will work - which already tells you what corner of the world it is. For the financial cryptographers, the solution is simply moving more towards the model Ricardo and x9.59 pioneered, c.f., Anne & Lynn, Gary & myself.
So where does that leave us? The fundamental statement would seem to be that the Windows platform can no longer be considered secure, not for any security that you might actually need. That day has arrived. Beyond that there is a huge amount of analysis needed to say more, far more than I can do in one post. I'll stop with these broad questions, recognising that asking the question is easier than answering it.
Is the Mac safe? Is it next, and when does the Mac cross GP?
Is the authentication model dead? Or can it be redeemed?
Where does this leave PKI?
Should online banking stick with the browser? Or go for another platform?
Online banks have the resources to fix these things, but what about the rest of us?
Are the actions of the anti-virus community helping or hindering?
Where goes Microsoft? Is it game over?
Far too much for one day. I'll leave you with Dan Kozen's fine bull, which symbolised my 2006 prediction of more government intervention, and today stands in for the running of the other more successful bulls.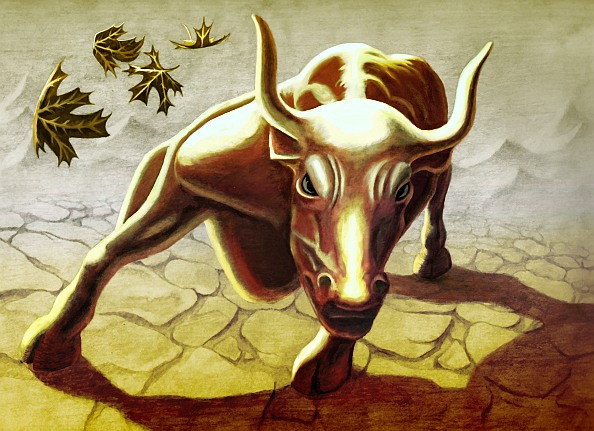 Thankfully, the regulators appear to be showing restraint, in that they are signalling that the problem belongs to the banks. The central banks have confirmed their intention to put risk sharing in place for online banking: the user will be on the hook for something like the first 150-250 of the fraud. After that, the bank picks up the rest. This is critical - both the bank and the user must engage in the security protocol, and any attempt to do otherwise is living in state of sin, to paraphrase John von Neumann.
Let's hope the regulators hold the line on that one, and prove at least one of my predictions dead wrong.
Posted by iang at March 25, 2006 10:33 AM | TrackBack