A Nokia Without A Phone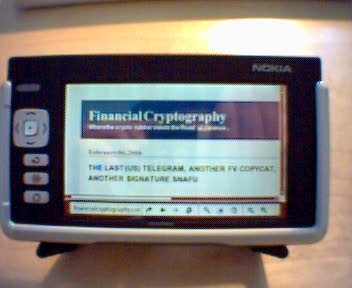 The Nokia 770 has just been released ... without a phone or a camera (photo taken from an Ericsson). But it does have a full-model Linux install and can be used for all things Unix.
(And, a VoIP phone is coming soon, they say, in the "2006 Edition." I wonder if Nokia reads the news...)
Seriously though, the nexus with FC is more than reading this morning's other blog entry - we want our own pocket PC so we can stick on our secure online payments program. Either a completely secure browser environment for online banking or WebFunds for secure payments. Unfortunately, the small model Java Mobile isn't worth the bother to rewrite all the apps.
Posted by iang at February 6, 2006 07:44 AM | TrackBack