Use another browser - Kaspersky follows suit

You saw it here first :) Kaspersky has dipped into the payments market with a thing called Safe Money:
A new offering found in Kaspersky Internet Security is Safe Money, Kaspersky Lab's unique technology designed to protect the user's money when shopping and banking online. To keep your cash safe, Kaspersky Internet Security's Safe Money will:

Automatically activate when visiting most common payment services (PayPal, etc.), banking websites, and you can easily add your own bank or shopping websites to the list.
*Isolate your payment operations in a special web browser to ensure your transactions aren't monitored*.
Verify the authenticity of the banking or payment website itself, to ensure the site isn't compromised by malware, or a fake website designed to look authentic.
Evaluate the security status of your computer, and warn about any existing threats that should be addressed prior to making payments.
Provide an onscreen Virtual Keyboard when entering your credit card or payment information so you can enter your information with mouse-clicks. This will activate a special program to prevent malware from logging any keystrokes on your physical keyboard.

...
The #2 tip is the same as the #2 one that's been on this website for years - use one browser for common stuff and another for your online payments. This simple trick builds a good solid firewall between your money and the crooks' hands. What's more, it's easy enough to teach grandma and grandson.
(For those lost for clue, download Chrome and Firefox. I advise using Safari for banking, Firefox for routine stuff and Chrome for google stuff. Whatever you do, keep that banking browser closed and locked down, until it is time to bring it up, switch to privacy mode, and type in the URL by hand.)
Aside from Kaspersky's thumbs-up for the #2, what else can we divine? If Kaspersky, one of the more respected anti-virus providers, has decided to dip its toe into payments protection, this might be a signal that phishing and malware is not reducing. Or, at least, the perception has not diminished.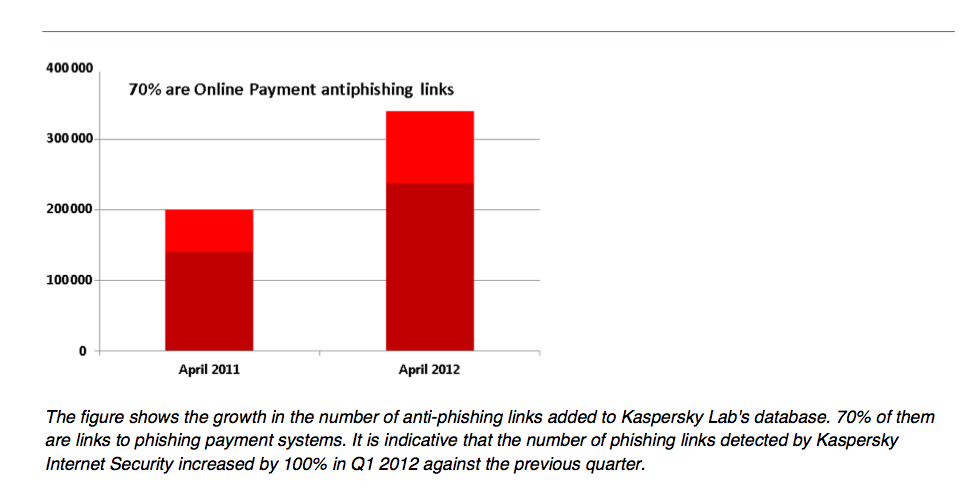 Out there in user-land, people don't really trust browsers to do their security, and since GFC-1 they don't really trust banks either. (They've never ever trusted CAs.) This doesn't mean they can voice, explain or argue their mistrust, but it does mean that they feel the need - it is this perception that Kapersky hopes to sell into.
Chances are, it's a good pick, if only because we're all going to die before any of these providers deals with their cognitive dissonance on trust. Good luck Kaspersky, and hopefully you won't succumb to it either.
Posted by iang at August 26, 2012 07:34 AM | TrackBack