Austria issues 100,000 Euro coin
In a rather inspired marketing move for gold, the Austrian Mint has issued a EUR 100,000 coin. Its dimensions are 37cm across (nearly 15") and its weight is 31kg (68lb). Street value about half a million USD, so the dollar has a way to fall before it matches the face value.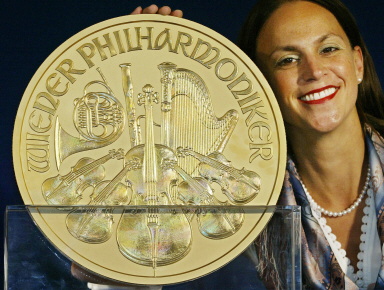 And, to cap it off, the Austrians enlisted that quixotic supporter of gold, Robert Mundell, to present the oversized Philharmonic to Wall Street. What can one say, other than .. inspired!
Austria unveils on Fifth Avenue what bankers call world's biggest gold coin
By VERENA DOBNIK
Associated Press Writer
October 5, 2004, 9:33 PM EDT
NEW YORK -- It would take an Arnold Schwarzenegger to lift his native Austria's new coin: 68 pounds of 24-carat gold worth about $500,000.
On Tuesday at a Manhattan art gallery, the Austrian Mint unveiled Big Phil, calling it the world's biggest gold coin _ and a powerful investment tool for today.
"The world needs a common currency beyond each national one," said Robert Mundell, a Nobel laureate in economics whose ideas lay the groundwork for Europe's common currency, the euro.
The Columbia University professor joined the chairman of the Austrian Mint in Vienna, Wolfgang Duchatczek, in presenting the coin at a Fifth Avenue gallery, in a room where multimillion-dollar paintings by Gustav Klimt surrounded armed guards in civilian suits.
White gloves were handed to anyone in the invitation-only crowd who wished to touch or hoist the coin, which is almost 15 inches in diameter.
Two other such coins were introduced Tuesday in Tokyo and Vienna, and a fourth was to be unveiled Wednesday in Munich.
Investing in gold acts as a hedge against the roller-coaster global economy.
"You can buy a car these days with the value of about the same amount of gold as in, say, the 1960s," said Kirsten Petersen, an Austrian Mint spokeswoman. "Gold is truly a storehouse of value."
Only 15 of the gleaming discs were created this year by the 800-year-old Austrian Mint, each with a face value of 100,000 euros (about $121,000) and bearing a replica of the Vienna Philharmonic Orchestra's famed hall on one side and orchestral instruments on the other. (Hence the nickname Big Phil).
While a face value of 100,000 euros is etched into the coin, its retail price of about $500,000 reflects the price of an ounce of gold on any given day in London _ $415.40 on Tuesday _ plus a minting premium to cover the manufacturing cost.
On Tuesday, the Neue Galerie on Fifth Avenue, which houses entrepreneur Ronald Lauder's collection of Austrian art by Klimt and Egon Schiele, was busy with representatives of top Wall Street firms who came to see the financial novelty. Most of the limited-edition coins already have been sold to investors and institutions whose identities remain private, Petersen said.
A more common purchase is the 1 ounce denomination of the Austrian Philharmonic coins, now selling at $400-plus each. Roughly comparable to the American Gold Eagle and the Canadian Maple Leaf, the smaller Austrian gold coin was released in 1989 as Europe's first 24-carat legal tender bullion.
Most governments no longer base their treasuries on the so-called gold standard in effect for centuries. However, the United States, Austria and many other countries have kept a gold reserve.
"Gold doesn't yield dividends like bonds, and it fluctuates a lot," Mundell said. "But the other side of the coin is that gold is a measure of national reserves, more than ever."
With the U.S. dollar more "shaky" in today's world, the Nobel laureate said, countries like China, Taiwan and Japan are looking to buy more gold.
Besides, Mundell added, rubbing his fingers across the gleaming gold, "they look so nice."
On the Net: Austrian Mint: http://www.austrian-mint.com
Copyright © 2004, The Associated Press
http://www.newsday.com/news/local/wire/ny-bc-ny--mammothmoney1005oct05,0,4315269.story?coll=ny-ap-regional-wire
Other articles at:
http://www.iol.co.za/index.php?set_id=1&click_id=29&art_id=qw1097069941434A236
http://edition.cnn.com/2004/BUSINESS/10/06/austria.gold.ap/
Posted by iang at October 22, 2004 05:36 AM | TrackBack